Whilst in lock-down, we can't Share The Peace in the usual way. So, in our Tabs Online service for 5 July, we'll be sharing the peace virtually, and we'd love you to join in.
All you need to do is record a short video clip of yourself saying "Peace be with you."
Then send us your video. Click here to use dropbox to send us your video file.*
The deadline for you to send in your videos is Saturday 27 June. The videos will be edited together and used in the Tabs Online Sunday service for the following week, on 5 July.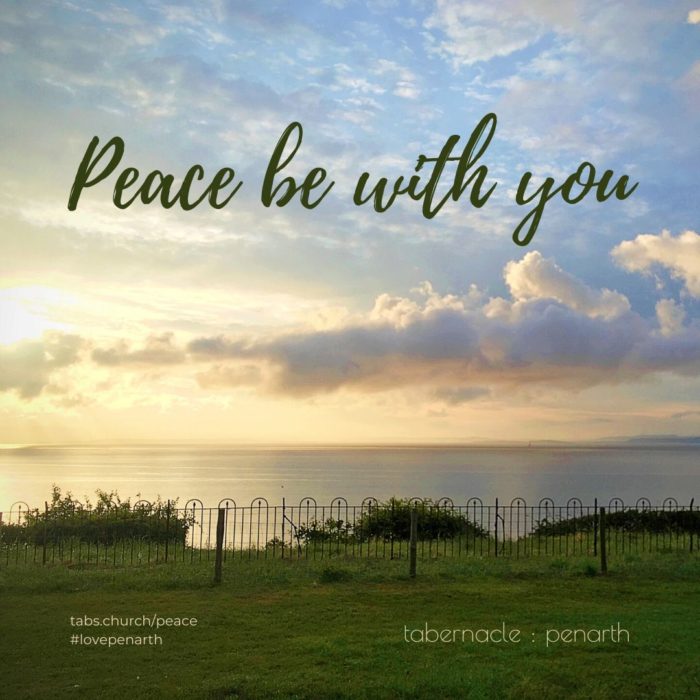 Here's some tips
Your video doesn't need to be perfect, we care about you, more than your video skills. But if you want some advice, here's some handy tips.
First, decide where you're going to film yourself. It should be somewhere quiet, that's well lit from the front, (avoiding lights, or bright windows behind you.)
Put your camera / phone in landscape, try and make sure we can see your head and shoulders in shot nicely.
Try and balance your camera, or get someone to hold it so the camera is at the same height as your head (so you're not looking up or down to it).
You can get lots more tips in this brilliant document our editor Naomi put together.
Get ready to record – to prepare, you might want to think about a friend at Tabs that you haven't seen in some time. Imaging praying for God's peace upon them.
Then press record, take a second to get in place, facing the right way.
Pause, take a breath, then simply say "Peace be with you". Then wait a second before pressing stop on the video camera.
Check your video recording to make sure you're happy with it. You can always do it again until you have a good take!
Then once you're finished, send us your file.
If you have any issues sending your file, you can try emailing it to comms@tabspenarth.org.uk or just use that email address to ask for any other help you need.
* The finished video will be shared publicly online. By submitting your video recording, you're accepting that we'll edit it into a video which will be made available online. If you're not comfortable with this, then please don't send us your video.
If any children or young people up to the age of 18 years appear in your video please send an email to comms@tabspenarth.org.uk confirming the filename of your video, and that you are their parent or guardian. In your email, please give us consent to use the recording and share the final video publicly online. No videos involving children or young people are able to be used without this written consent.
The closing date for you to send in your video is Saturday 27 June.