Open every week day between 10 and 12 for people to collect or donate food or uniform.
Office hours are 9am – 1pm Phone: 02920 709524
The Penarth Food Bank
Where: Arcot House, Plassey Street, Penarth, CF64 1EN, (maps)
When: open every weekday morning, 10am to 12noon if you need to collect or donate food or uniform .
Our food bank is there to help anyone in need.
We're now working out of our office at Arcot House, just diagonally opposite the church building. We're opening every weekday morning.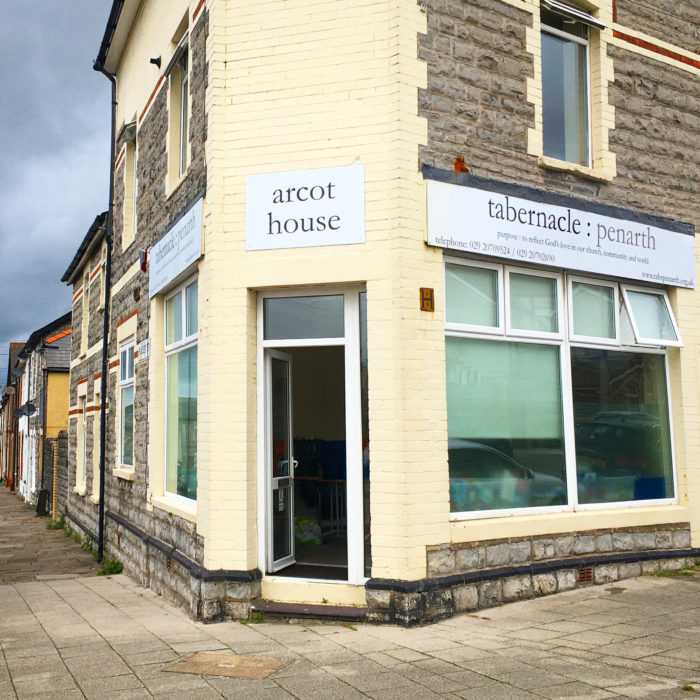 I need help
We know that anyone can reach crisis point and we're here to help.
If you need help from our foodbank there are a few simple steps to follow.
You can call into Arcot House any weekday morning between 10 and 12 where you will be welcomed by our friendly volunteers who will discuss what you need and prepare your food parcel.
You will be asked for your name and details of how many people are in your household .  We normally give enough food for 3 days but understand that peoples circumstances, tastes and facilities are wide ranging and so we try to be as flexible as possible.
As well as a wide range of non perishable foods we try to keep a stock of toiletries, cleaning materials and nappies.
Alongside food we also provide practical guidance and our volunteers will take the time to listen to your story to see how else we can help you. They have details of a range of local services and can help you to access to the right support, enabling you to break out of crisis. Finally as followers of Jesus we believe that prayer can change lives and circumstances, and so as well as praying regularly for you we would love to pray with you about anything that is on your heart.
I want to help
Our food bank receives donations of food from all the local churches in our area, given by members of the congregation. In addition we are given monetary donations, all of which is used to buy items of food, supplementing what has been donated.
Donations can also be left in the collection bin at Sainsbury's on Windsor Road or brought in person to Arcot House any weekday morning between 10-12
If you run a shop or wholesale and would like to make a larger donation, or arrange collection, please contact us on 02920 709 524 or homeaccess@tabspenarth.org.uk.
Some Reviews
6 months ago
"I sometimes use the food bank there the people are lovely ♥️" *****
3 months ago
I am not religious but the staff here were very kind
a year ago
Soo helpful polite thank you
Very helpfull and caring
School Uniforms
We are now stocking school uniforms.
At Tabs we are practising our 3 R's, reduce, reuse, and recycle and so have started a nearly new uniform shop where good quality clean uniform items can be shared. New school uniform can be expensive and soon outgrown so whether you need new uniform for your children or would like to drop off used items we would love to help. We have a wide range of uniform items and sizes for most local schools. Arcot House is open every weekday morning from 10-12.
Our contact details are 02920709524 or homeaccess@tabspenarth.org.uk if you'd like to speak to a volunteer.
Keep up-to-date
Follow us:
If you need to get in touch, contact us:
About the Penarth Food Bank
We set up this foodbank in 2008.
Jesus taught we should feed the hungry, and love our neighbours. As a church we've always given to charity and supported overseas work, but in 2008 it seemed like there might be need in our community for a foodbank – and we started this project as a way to help care for out neighbours.
Since then many other churches and organisations have joined in supporting this great work. And so many wonderful Penarth locals have donated so much food over these years.
Find out more about it here.