We'd love you to join our virtual congregation!
As part of our week of prayer for Thy Kingdom Come, we're creating a music video for the song Pray, by Worship Central. It'll including lots of familiar faces from our community, all singing along together. And you're all welcome to join in.
You don't have to be a perfect singer – just like at church there will be plenty of other voices around yours. Your worship is more important than the sound you make.
If you don't want to be on screen you can just send us an audio recording in stead of a video. Or if you want to join in without singing, then go ahead and film yourself miming and dancing along to the music. Find more detail below.
The deadline to give us your videos is Wednesday 20th May.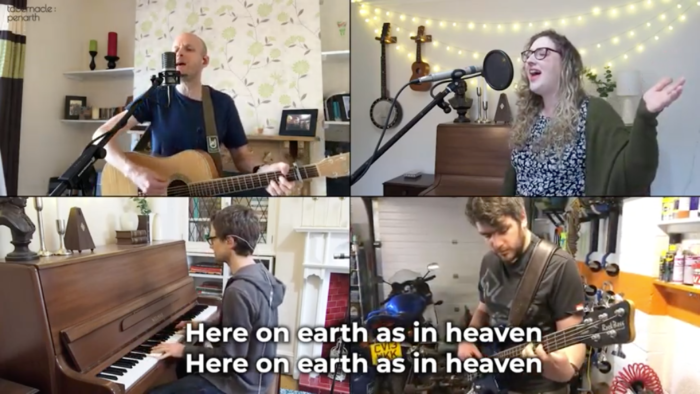 How to get involved
First you'll need to download our backing track for this song, made by our worship leader Matt. It has a click track to help keep in time, and cues to let you know when each section is about to start.
You need to be able to play this song back listening on earbuds, or headphones. (there's more explanation about that later)
Get the lyrics ready, you can find them online here.
Next, decide where you're going to film yourself. It should be somewhere quiet, that isn't too echoey. And it should be well lit from the front, (avoiding lights, or bright windows behind you.)
Put your camera / phone in landscape, and try and make sure we can see your head and shoulders in shot nicely. You can get lots more tips in this brilliant document our editor Naomi put together.
Use earbuds in to listen to the backing track. This means your video recording only has the sound of you singing, and doesn't pick up the backing track.
Press record on your camera, then press play on the backing track. Singalong, smile and have fun all the way through to the end of the song.
Check your video recording, to make sure you're happy with it. You can always do it again until you have a good take!
Send us your file. If possible, try and rename your video file with "Pray" in the title. then upload it to this drop box link below
The finished music video will be shared publicly online. By submitting your video recording, you're accepting that we'll edit it into this music video, which will be made available online. If you're not comfortable with this, then please don't send us your video.
If any children or young people up to the age of 18 years appear in your video please send an email to comms@tabspenarth.org.uk confirming the filename of your video, and that you are their parent or guardian. In your email, please give us consent to use the recording and share the final video publicly online. No videos involving children or young people are able to be used without this written consent.
The closing date for videos is Wednesday 20 May.
We're so looking forward to seeing the final video. We're planning on sharing it during our 24/7 prayer week for Thy Kingdom Come. Find out more here.