Thy Kingdom Come is a global prayer movement, which invites Christians around the world to pray for the goodness of God's kingdom to come.
We're joining with other churches and holding special prayer events, and a 24/7 prayer marathon. You're so welcome to join in.
24/7 Prayer
You're invited to pledge to pray, so that we as a community can achieve a whole week of continuous prayer, from 13th May to 23rd May.
You can choose slots of one-hour. You can pray by yourself, or with members of your household, or with friends over video chat. Book in as many slots as you'd like, or book two (or more) in a row if you want.
There are many people in our community who may want to join in, and aren't able to take slots at less sociable hours. Please be mindful of them if you notice certain 'popular times' are being booked up more quickly.
Keep Connected
By the end of Thy Kingdom Come last year, our prayer tent was filled with arts and crafts, scriptures, pictures, prayers – all signs of the different ways all sorts of different people had met with God.
This year we want to hear from you!
While we're praying in separate locations, we are still one community. Let us know what your prayer space looks like, and how God has spoken to you. Send us photos, videos of thoughts, scriptures you've written down, any artwork you've made in your prayer time, or anything you'd like to share. Contact us: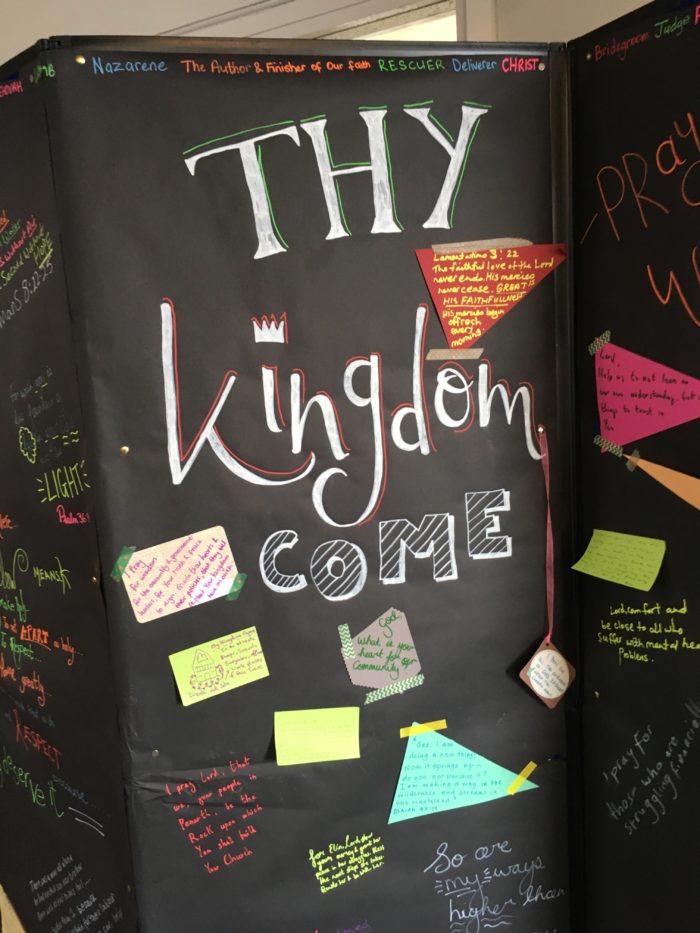 Group Prayer events
Throughout this week of prayer, there'll be many group prayer meetings held on zoom. Here's a list with all the details for our prayer meetings, and includes Thy Kingdom Come prayer meetings from other Penarth Churches.
This document is still being updated, check back regularly to see if new meetings are added and for updates on meetings marked TBC – 'To Be Confirmed'.
More about Thy Kingdom Come
Find out more about Thy Kingdom Come at thykingdomcome.global
Read about their new Prayer & Care plan, in response to covid-19 and the lockdown thykingdomcome.global/stories/prayer-and-care